Are You Worried About Your Roof?
Here are signs that your roof needs an expert inspection from the specialists at iRoof Exteriors.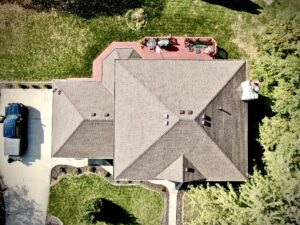 1. Curled, cracked, or absent shingles.
These are signs that your shingles are nearing the end of their lifespan. If you see these types of shingles, you should
Call Us.
 You may need to have your roof replaced. Curious about the price of a roof replacement?
Click Here.
2. Dark, dirty, or even wet shingles. If shingles are trapping moisture, they aren't doing their job. Keep in mind that water runs downhill, the wetness may not be under the offending shingle.
3. Lots of shingle granules in gutters. Composite or asphalt shingles shed their granules when they start to wear out. These granules can often find their way into your Gutters. The granules look like coarse, black sand. If you come across these granules, give us a call.
4. Wear and tear on your roof. Chimneys, vents, pipes, and other objects that sit on your roof are common spots for deterioration to develop. If left untreated, it can cause serious issues for your home. However, the good news is that often these fixes can be confined to these specific areas.
5. Peeling or blistering exterior paint. A poorly ventilated attic can cause moisture or increased humidity to build up near the roofline — this can cause paint to peel or blister. (This is often an indication that your gutter system is failing.)
11. Your roof caught fire? Yeah, it might need fixing!
6. Stains on interior ceilings or walls. Water stains or discoloration on your ceilings or walls can be caused by a few different things. But your roof's underlayment might allow moisture to enter your home, this causes stains. By replacing your roof, we can solve this problem for you.
7. Are you seeing leaks in your roof after a rainstorm? If rain is getting into your attic, it may be as simple as repairing a section of your roof. However, if the culprit is a porous underlayment, you'll likely need a roof replacement.
8. A sagging roof deck. If you notice the decking or rafters in your attic are starting to sag downward instead of remaining straight, they're likely wet from leaking moisture. If it's localized, you may be able to avoid a complete roof replacement. However, if left untreated, it can become an extremely costly headache.
9. Do you see outside light in your attic? If you're in your attic during the day and notice light streams coming in, know that water and moisture will invade your attic through those same openings.
10. Have you noticed an increase in your energy costs? If you notice a spike in your heating or air conditioning costs, the warm or cool air might be leaking out due to your roof or even an issue with your Siding. If you have any concerns regarding your siding, look at our "Siding Guide." Addressing this ventilation issue in your attic will decrease your cooling and heating expenses.
12. A huge tree branch fell on your home? You probably should get that fixed, too!
If you're experiencing any of these issues, it's time to call iRoof Exteriors. We will be able to assess the situation and let you know if you need a roof repair or replacement. We are the top-rated local roofing contractor in the Rockton, IL area.
A quality roofer such as iRoof Exteriors will:
– Have insurance (general liability and workers' compensation)
– Use high-quality materials
– Offer a warranty on their workmanship. We are GAF-backed and offer a 50-year warranty.
– Be able to provide references from past customers in Winnebago County or Rock County.
Don't wait until it's too late – if your roof is showing signs of wear, Call Us!